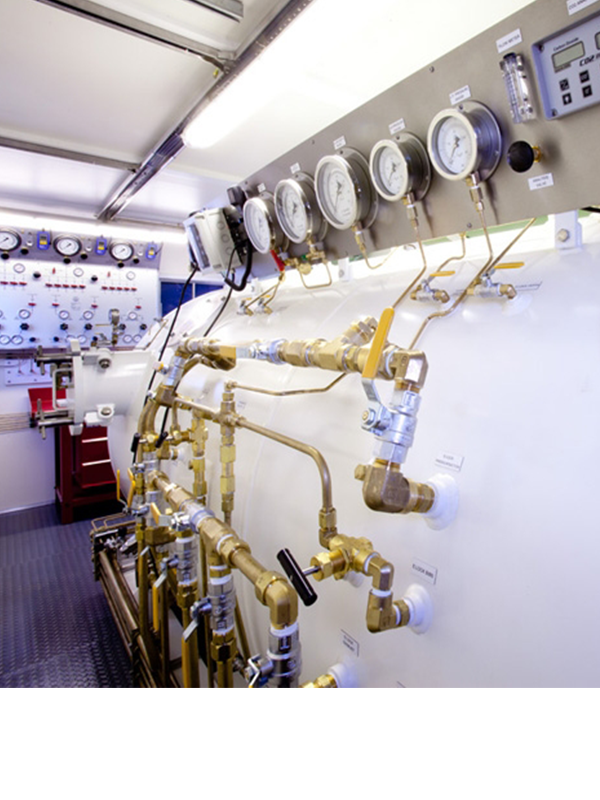 Containerised Hyperbaric Chamber and Dive Control
The dive chamber is rated to a depth rating of 100m/330fsw in accordance with the latest PD5500 & PVHO codes. approved by Lloyd's Register of Shipping and the construction of the vessel is reviewed and witnessed by Lloyd's Register Surveyors.
The hyperbaric chamber has two locks, namely the main and entry lock and complies with all standard IMCA requirements for a deck chamber used for recompression including single view-ports in each lock. The internal fit-out includes sound-powered phones,a hyperbaric fire extinguisher, stainless steel wear surfaces, and two internal bunks allowing for either two recumbent patients or four seated occupants. The control panel is fitted with an oxygen analyser, two pressure-indicating gauges, one therapeutic
gauge, an electrical control panel and a twin-lock communications panel.
The gas systems on the oxygen chambers include dual pressurization of the main and entry lock. The electrical system includes a battery back-up and a dual incoming power supply. The 3 diver containerized diving system provides maximum supervisor and operator comfort and quality.  
A Marine-Grade paint system is used to ensure durability and a long life expectancy. The deck of the dive container is a full steel deck with a Butamastic coating to again increase the durability of the container. Steps are provided on the door locking arms to provide access to the roof where modified corner castings are provided for use with four-legged slings.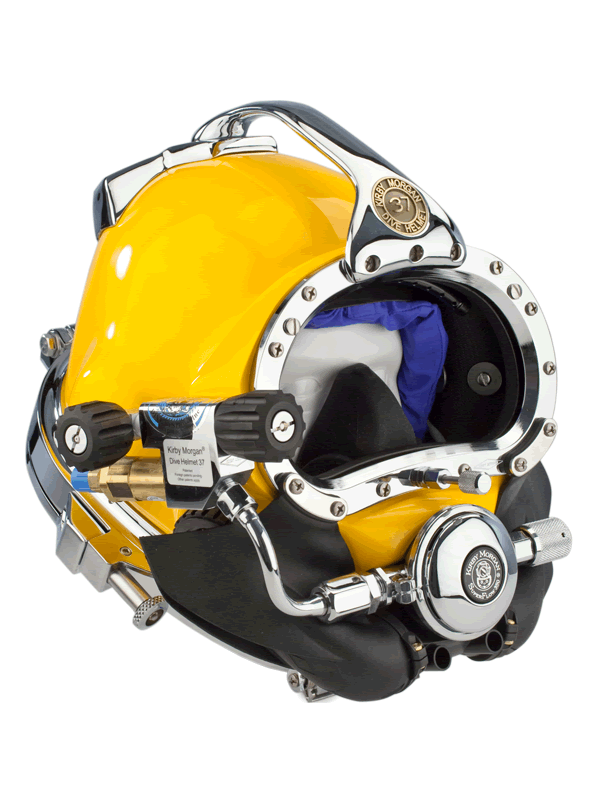 The Kirby Morgan 37 Diving Helmet comes standard with the Quad-Valve™ exhaust system, which has less breathing resistance than the older single valve exhaust while providing an extremely dry hat. This system is recommended for diving in biologically contaminated water.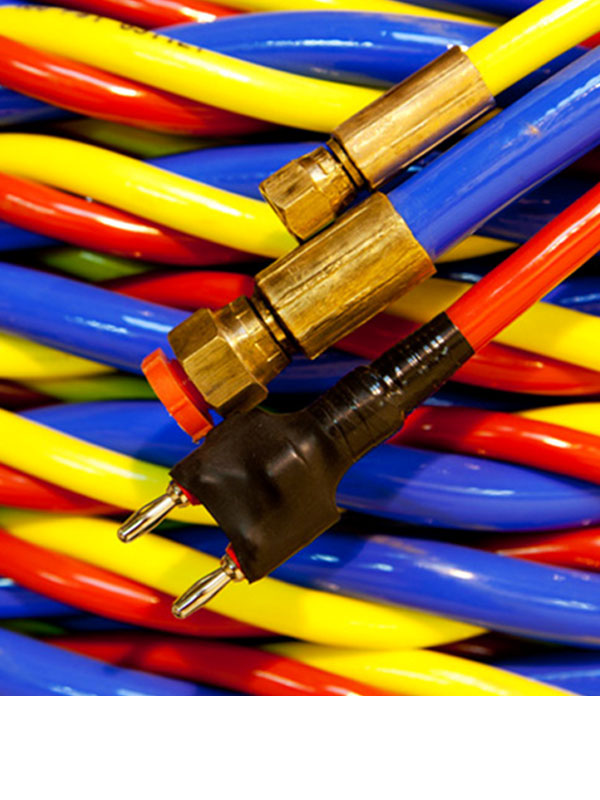 Surface Demand Umbilical (Air Diving)
Whether it's for civil, commercial or hazardous end uses, Cortland umbilical offers a complete range of diver umbilical for surface demand. Fibroline and Fibrolite hoses have a smooth polyurethane cover for excellent abrasion resistance, while giving superior flexibility.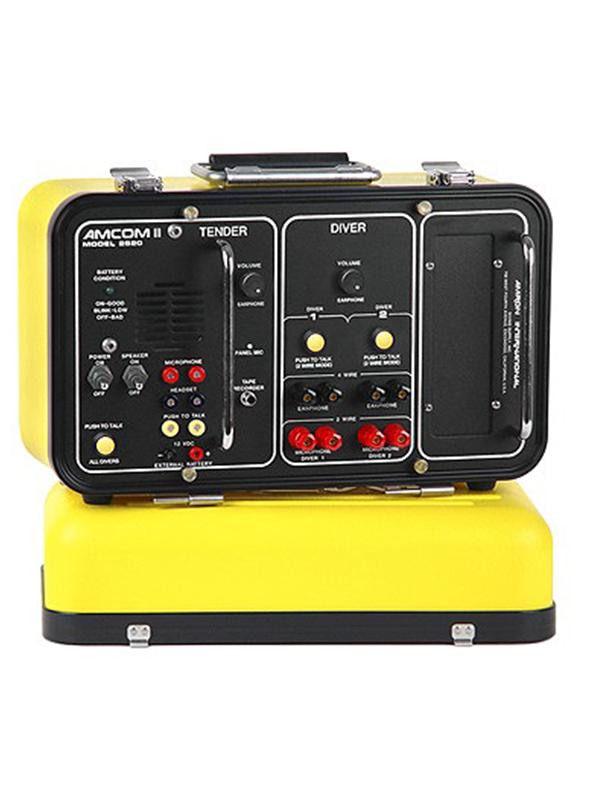 Amcom II Series 2-Diver Portable Radios
As the most versatile, powerful and efficient two-diver communicators currently on the market, the Amcom II Deluxe Series (2825A) features separate volume controls for each diver, as well as a handheld push-to-talk microphone.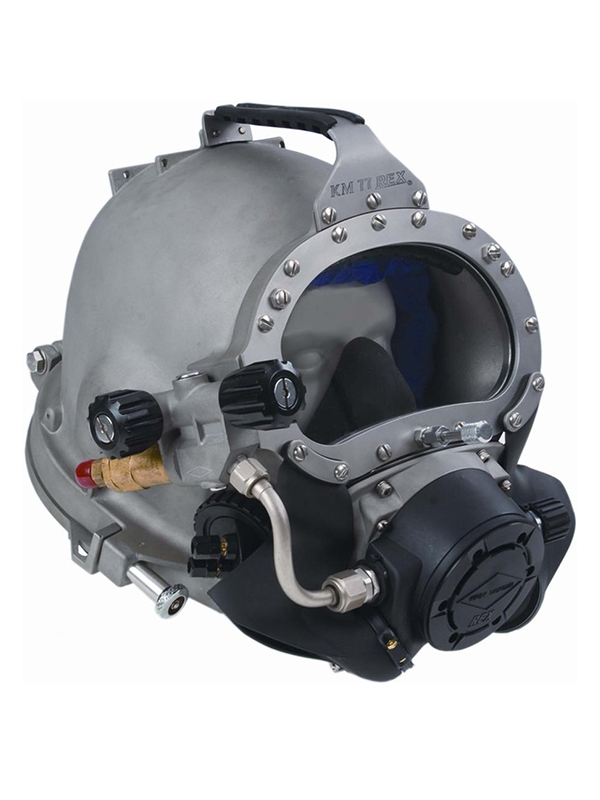 The Rex regulator on the Kirby Morgan 77 offers high performance. The regulator has been tested at Dive Lab at Panama City, Florida. It meets or exceeds all current U.S. navy and European diving standards. These helmets meet or exceed all standards established by Dive Lab of Panama City, Florida, and are CR (Commercially Rated) marked.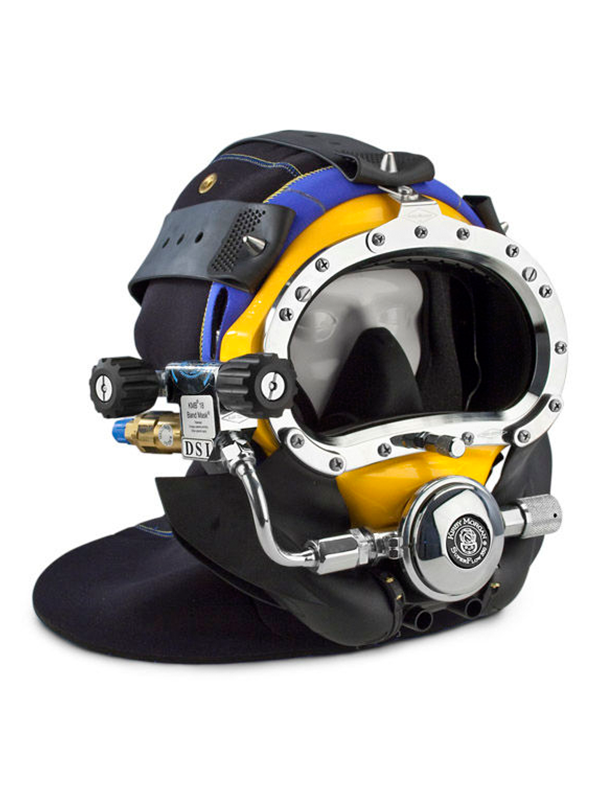 The KMB 18 has a hand laid fiberglass frame. The fully tested and certified KMB 18 BandMasks® may be used in mixed gas diving as well as shallow water diving. The fully tested and certified KMB 28 BandMask® may be used in mixed gas diving as well as shallow water diving.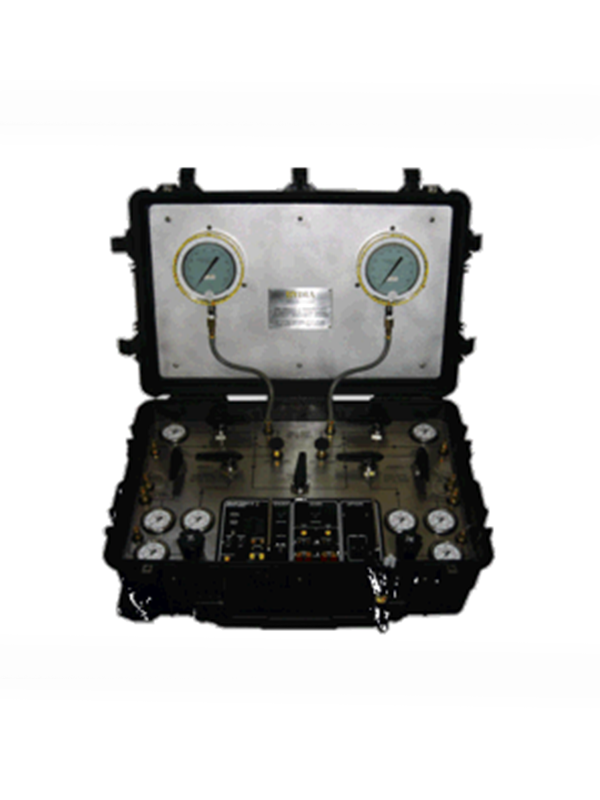 Portable Air Control Panel 1650 PP
The 1650 PP 2-diver gas control panel is a compact IMCA- compliant portable diver's gas control panel. The control panel is supplied with two LP supply inlets (one per diver) and two HP Tescom Regulator Supplies. The panels includes features such as emergency cross-over valve and safety valves on the air supply lines and on the pneumo gauges.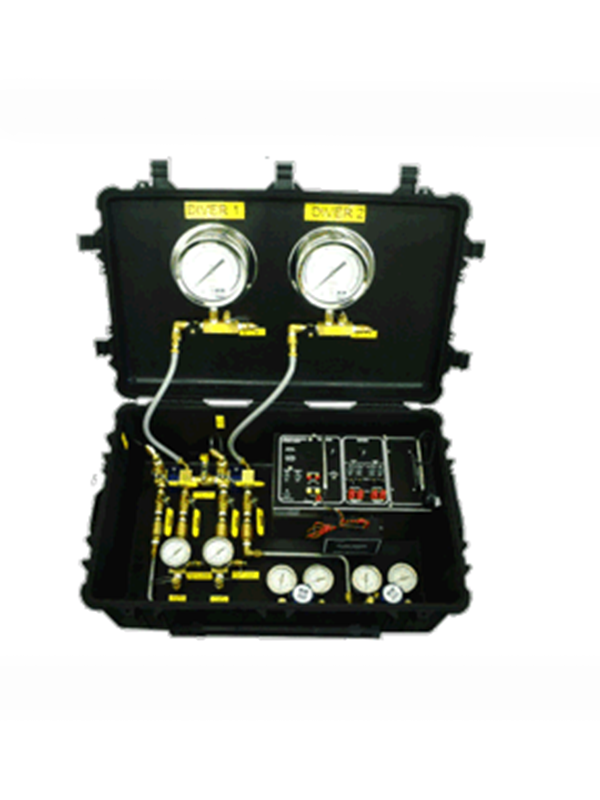 Portable Air Control Panel 1650 PS
The 1650 PS 2-diver gas control panel is a compact IMCA- compliant portable diver's gas control panel. The difference between the 1650 PP and 1650 PS is that all equipment is surface mounted and therefore easier to service and maintain. This product is aimed more specifically where severe conditions or weight requires a stripped down panel.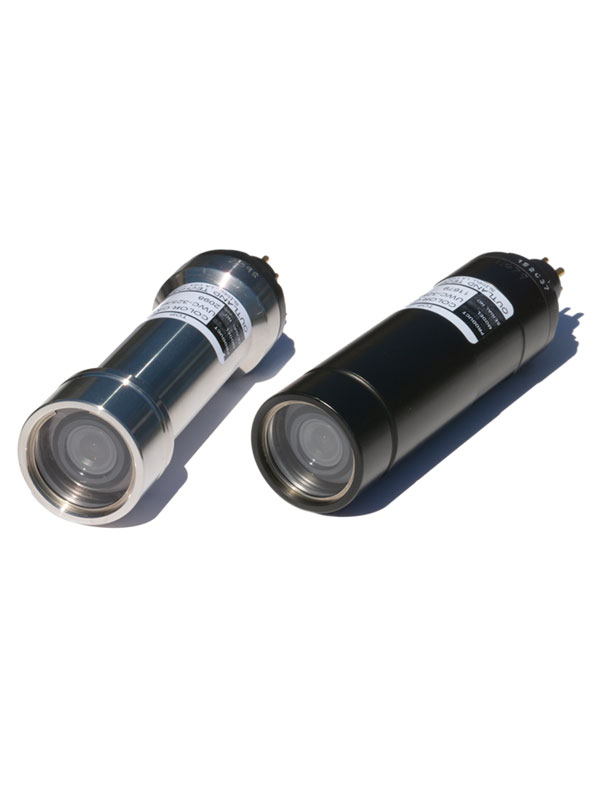 Hull Diving Services uses the latest Outland Technology High resolution colour camera and CCTV System for all the underwater operations. The system gives the attending client representative a clear picture of the underwater works. This system is also vital for all classification societies in the performance of UWILD vessel Inspections.